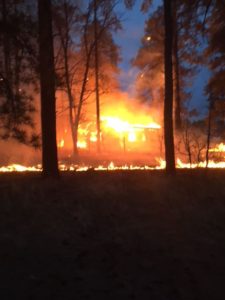 Area fire crews quickly responded to and were able to put out a fire near Rainbow Lake.
One unoccupied structure burned, an old cabin, according to a witness.
 "No one was injured and nobody or any occupied structures were ever in any danger," said Kirk Webb, Risk Manager for Timber Mesa Fire and Medical Department.
An area business was evacuated but no nearby residences were, according to Webb, although social media reports speculated otherwise.
Crews were able to extinguish the fire and worked to mop up hot spots within a couple hours.
The fire started around 6:30 p.m. Monday, just east of the Rainbow Lake dam and is actively under investigation.
Source : Press Release