Goodwill Coming to the Mountain ? …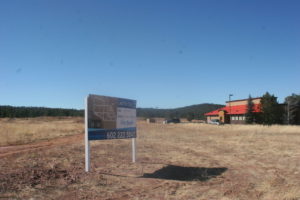 A conditional use permit application submitted to the Show Low Planning and Zoning Commission indicates that a Goodwill store will be coming to the community.
The grading permit, submitted by George Pasquell III of Withey Morris PLC, was approved by the Show Low Planning and Zoning Commission on Tuesday, Jan. 9. According to the permit, the applicant represents Goodwill, a non-profit agency which operates secondhand retail stores and donation centers.
The property, located at 4470 S. White Mountain Road., is already zoned C-2 which designates "general commercial," and requires a conditional use permit (CUP) for grading and submission of a conceptual site plan. The permit application is for an 18,000 sq. ft. Goodwill retail store and donation center.
The lot, currently unoccupied, sits on the west side of AZ 260 and to the south of Pizza Hut in Show Low. Crystal Dragon and Sweet Illusions sit on the hill immediately to the south of the lot.
The Commission reported receiving "several phone calls from neighboring property owners regarding the nature of the request, with one caller expressing concerns regarding donations at the subject property; however no opposition to the proposed project has been received."
Source : Press Release