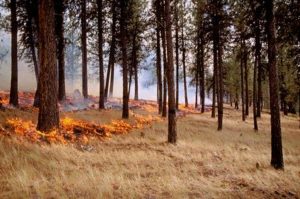 Location:
 Black Mesa Ranger District of the Apache-Sitgreaves National Forests
 Navajo County, Arizona
 Approximately 5 miles south of Heber-Overgaard, Arizona
Start Date: Monday, March 26, 2018 Size: 8.7 acres
Cause: Under Investigation Vegetation: Timber – heavy dead and down component
Growth Potential: Low
Summary: The Whiskey fire was spotted from Gentry Fire Tower by Forest Service personnel on Monday, March 26, 2018 at 12:21 p.m. The fire is located off Forest Road 166, between Forest Roads 51 and 487. Responding crews from the district were able to construct line around the perimeter of the fire Monday before nightfall. Aided by cool temperatures and light over-night snow, crews have switched from suppression to mop-up. Crews will continue to monitor and patrol the fire, taking action as needed until the fire is determined to be out.
Source : 311 Info