Wildfire near casino held at 12 acres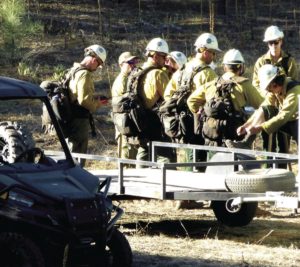 A wildfire that started Wednesday about a mile south the Hon-Dah Casino off of Highway 73 on the White Mountain Apache reservation was nearly extinguished on Thursday morning.
Candy Lupe with Bureau of Indian Affairs fire management said the Oliver Fire is still under investigation, however it is suspected that someone may have pulled off of the highway near Cooley Mountain around 5:30 p.m. Wednesday, May 9, when perhaps something like a hot catalytic converter (exhaust system) started the fire.
The fire started about one mile south of Hon-Dah Casino and east of Highway 73 near Cooley Mountain. The fire was initially estimated to be as large as 50 acres, but was actually much smaller. On Thursday morning, fire officials said the fire was only 12 acres. Lupe said fire crews had contained the fire and that by Thursday morning they had a line all around it and were in mop-up operations.
According to the BIA Forest Management Facebook page, resources on scene on Wednesday evening included two hotshot crews, air attack, one helicopter, one bulldozer and four engines with additional resources also responding to the fire. The fire occurred within a previously prescribed burned and logged area.
It is called the Oliver Fire because it started off of Highway 73 just past Lester Oliver Street.
No one was hurt fighting the fire and the state Route 73 is open. Smoke is lingering in the valleys and fire vehicles remain on scene, so motorists are advised to be alert.
Source : Press Release